Residence permit in Italy
- a permit issued by Questor, which allows foreigner to live in the Mediterranean pearl. It can be either permanent or short-term.
The conditions for obtaining a residence permit in Italy
There are several ways to obtain a residence permit in Italy:
Business immigration. It is also "individual labor activity". Suitable if you are a private entrepreneur or Director (founder) of your own company;
For highly qualified professionals. There is a certain list of specialists that Italy needs. Such professionals are offered a simplified procedure of entry into the territory of the state and issued a special residence permit;
For employees. You need to have an employment contract with an Italian employer, and you must fall into quotas for foreign specialists;
Family reunion. Suitable for relatives of Italian residents;
For students. Visa for the period of study in Italy, allows you to live in the country and work no more than 20 hours a week. Also requires getting into quota;
Residence permit at the chosen place of residence. Requires a high passive income;
Italia Startup visa. Creation of an innovative enterprise in Italy.
Each residence permit in Italy has its own conditions and requirements for the foreigner who requests the said permit.
Duration of temporary residence permit in Italy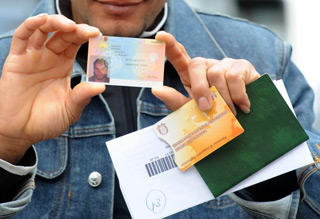 Initially, foreign citizens officially arriving in Italy receive a temporary residence permit. Its duration:
six months for seasonal workers;
year for students;
year for businessmen;
two years for employees or family reunions.
Subsequently-if you live in Italy for at least five years – you can get a permanent residence permit permanent residence. This is a single permit for the European Union, which has no validity period.
What gives you the right to a residence permit in Italy for the foreigners'?
After obtaining a residence permit in Italy, you acquire all the same rights as residents of the state, except for the electoral. You can get a number of educational services free of charge, use budget medical services, join local associations, legalize previously obtained certificates and diplomas, as well as move freely in Italy and EU countries.
How to apply for a residence permit in Italy
If you decide to immigrate to Italy, you need to choose the most suitable option for you to obtain a residence permit. Keep in mind that you will need not only to collect documents, but also to solve related problems: to provide an employment contract, to confirm their solvency, etc.Some difficulties arise with a residence permit in Italy for pensioners and other persons with high passive income.
If you want to immigrate to Italy without unnecessary difficulties and problems, just write or call us. We have experienced professionals who will help you to move to the country of your dreams with minimal effort and money.