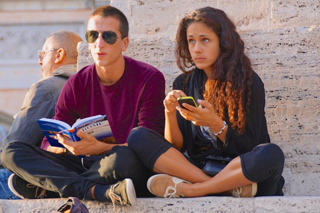 Immigration to Italy through education
- is one of the most effective and interesting ways. It differs in that it requires neither the availability of in-demand occupations or solid funds for the implementation of business immigration. Immigration through study is a real chance to become a citizen of a Sunny Mediterranean country, bypassing many rather harsh requirements.
How to obtain a student visa
First of all, to obtain a student visa to Italy, you do not need to become a University student – any courses will suit you. For example, you can learn a language or improve your professional skills. It is much cheaper and easier than to enter a higher education institution.
You sign up for courses/enter the Institute, submit to the Consulate a package of documents and get a residence permit in Italy for students for a year. This residence permit can be passed annually until the end of training.
Important: residence permit for study gives the opportunity to work part-time, no more than 20 hours a week. If the student was able to sign a contract for more than 20 hours a week and 1040 hours a year, you will need to apply for a residence permit for hired work.
This residence permit is issued for a year, extended when the entry visa is issued to attend the course for a period of more than a year. Residence permit for study is not extended for more than 3 years of the duration of Your official course of study.
Replacement of the residence permit for residence permit for carrying out labour activities on the conditions of existence of specific quotas and observance of the laws established for a particular profession:
For adult citizens of another country, already permanently residing in Italy;
For adult citizens of another country who have already received a diploma from an Italian University or specialized educational institution.
Have the right to request a residence permit for the work of those foreign students who have received qualifications in Italy 1 level diploma, 2 level diploma or doctor of science.
Residence permit for study entitles you to request permission to family reunification. Also gives the opportunity to invite family and friends.
Any foreign student can, upon registration with the National health service, count on full medical care, including even the possibility of choosing a therapist.
The cost of a student visa
The cost of the student visa is 35-70 euros (depending on the timing of the visa), but this is not the main item of expenditure. Keep in mind that throughout the training you will have to live on something, as the work in Italy is difficult-especially for foreigners. And finding a job, you will not be easy to make a living and study, working only 20 hours a week.
Our experts will help you
if you want to get a student visa to Italy. We will prepare documents, answer all questions, help with the choice of educational institution. Contact via Skype, on the website via the feedback form or by phone.