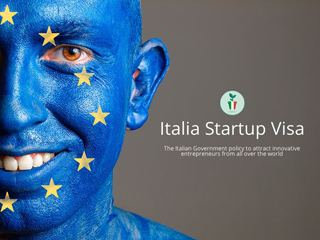 An innovative immigration program called "Italy startup visa"
. The main goal of this program is to attract people and foreign capital willing to create innovative start-UPS in the country. In the legislation we are talking about innovative start-UPS, and not about any new enterprise opened in Italy. However, there are no restrictions on the age and sex of the entrepreneur, the sector of activity and geographical location in Italy.
The basic requirements to receive the "Italy startup visa»:
Be a citizen of third countries that want to create and launch an innovative enterprise in Italy.
Get permission from the technical Commission "Italy startup visa". Within 30 days, the Commission considers the summary and innovative project with a budget of at least 50 000 euros and at the end of the period gives its consent or a reasoned refusal. 5 people will be able to use the permission within one Startup project. If the conditions of the project provide for the participation of more than 5 people, the technical Commission can issue up to 10 permits.
Proof of residence in Italy (property or rent).
Confirmation of annual income of the applicant, which must be greater than 8 600 Euro for 1 person.
If a start-up entrepreneur has already found interested persons in Italy who will help him and support his project, the "Italy startup visa" will be issued automatically. After receiving a visa at the Consulate, on arrival in Italy, the applicant will be able to obtain a residence permit.
In order to get more detailed information, you can ask a question to our experts through the feedback form on the website, call on Skype or one of these phones.